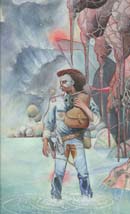 (Via Galactica #7, february 1998, translation: Tatjana Iveges)
We believe that Mihaela Velina, editor of Futura, doesn't need a special formal introduction. Since she can't be reached by phone, and number of "Futura" office is, in fact, the number of the publisher "Bakal", this interview has been done by e-mail. We thank Boss and the others who sent our questions to Mihaela.
---
VIA GALACTICA
A several years have passed almost unnoticed since you became the editor of "Futura", third in a row. Tell us, how this change came about, how did Krsto left, and you took over? (Please, with lots of spicy details, just for starters.)
MIHAELA VELINA
I'm sorry, there's no spicery about it. From the beginning of our cooperation Krsto used to say "Some day you'll inherit my editorial chair". When it came to some misunderstanding between him and Boss (details find out from two of them), it seemed logical that I go on from where he stopped. Before (during his editorial mandate), Krsto gave me free hands and often let me choose and translate stories I thought could (or should) be published in Futura. In the beginning, that was connected with Zelazny and recent SF production, and in time it turned into whole "foreign" part of Futura.
VG
Explain to us a minor dilemma: are you editing "Futura" professionally, or is it a "second job" to you?
MV
In fact, things are like this: for the last year and a half I'm in Bakal d.o.o. as a "steady", although I work at home, and shortest description of my job would be "girl for everything", because it contains lots of stuff (editing, reviewing, printing preparations, translating, "corresponding" with readers etc.). Since my fee as the editor (400 KN) wouldn't even be enough to pay my electricity and gas bills, I live from my translating (mostly for Futura and publishing house "Izvori").
VG
How many people are in fact working for Futura and who are they?
MV
In Futura there are: Boss (front page, commercials, subscription, web pages) and me (editing, translating, printing preparations, reviewing), with help from several collaborators. Those collaborators are our columnists: Goran Bošnjak (movies), Zdravko Damjanić (he's been reading) and guru Krsto (fandom + Glambrlja).
VG
How are you choosing stories to be published in Futura?
MV
As I have recently stated in Futura, there are a few things I take care of: 1) that I think that story has a certain literal value; 2) that I think that lots of readers would like it. Off course, it would be most wonderful and easiest to do if I could edit in Futura only stories that I like, but choices are different and I must have that in mind. Personally, I'm not a fan of the space-operas or (as Boss calls them) zap!-bang! stories, but I'm aware that there is a certain number of readers who like them, so they also have their place in Futura.
VG
Do you prefer SF or fantasy?
MV
I prefer SF. Maybe because I've been reading it longer than fantasy or maybe because fantasy for me just doesn't have that sense of wonder which attracted me to SF twenty-or-so years ago. I was twelve when the first issue of Sirius was published and I discovered Rull; although I probably didn't understood the point of the story then, that was the fatal moment which, I can freely say, marked my life. No, I haven't decided then someday I'd be the editor of SF magazine, but I stopped dreaming about king Arthur and started to stare intensively at our smog-free sky and make plans what to tell the aliens when they land. It's not that I don't like to read a good fantasy - Zelazny's "Amber" is on high place of my favorite books top-list, and I read with great pleasure, for example O.S. Card's Alvin Maker serial, Williams' "Memory, Sorrow & Thorn", Kay's "Tigana" etc. And, off course Asprin's "Myths".
VG
Recently you became a reviewer of Croatian stories too. Is it hard for you, and how many of them do you get monthly?
MV
Answer to both of your questions would be "it differs from time to time". Sometimes I regret I took over the reviewing, though sometimes reading Croatian stories makes me feel like a real editor (cause, let's be realistic, choosing of foreign stories from world's famous magazines or anthologies is not an art at all). The hardest thing of all is to send a negative reply to some writer, especially to someone hopeful with his first work. On the other side, recently I got three short stories which literally swept me off my feet (in that case I even sent an offer to the writer to translate them to English and send it to the foreign magazines). So there are good sides after all. Unfortunately, less "Frogs", more those where Sun becomes supernova, or nasty aliens from Andromeda galaxy who are sending to Earth indestructible robots which kill whole mankind because they don't understand we're intelligent. How many stories, that is hard to say. Sometimes we get ten, sometimes five, but important thing is that we're getting them. I already have "in stock" Croatian stories enough for the whole year, and that is encouraging, isn't it?
VG
Can you give some advice to the young writers about writing stories? How should a story look like to be published in Futura?
MV
It's important that story is good and well written (I think stylish, not grammatical). Unfortunately, very young writers often rewrite prehistoric stories and use well known ideas or they don't check out "scientific basis" of their story, or instead of narrating they retell, or the whole thing sounds like "Independence Day" or 007 in space. But every beginning is hard and writer shouldn't be discouraged with that. A negative reply doesn't mean that the writer has no talent. So, my advice is to write, write, write. Give up only when they refuse all of your 20 written stories. After all, you could always be an editor, don't you?
VG
We know you got at least one story published in Sirius. Do you write?
MV
Listen, man can make a story or two, but I don't think it's my destiny to be a writer. Yes, I still write occasionally, but mostly to satisfy my soul. Though, two of them have been published in Futura, before the time of my editorial tyranny and under a silly pseudonym. In fact, I thought that the pseudonym was so obvious, but it seems that it wasn't after all. Hmmm… maybe I should publish some more.
VG
Warning - a bit tougher questions. In November 1997. Futura declared that there will be no more paying off Croatian stories with money. We know author's royalties were pretty symbolical anyway. Don't you think this move is a bit frivolous for a monthly magazine which costs almost 10 DEM?
MV
I am only hired work force here, Boss is the financial minister of Futura, so this question should be answered by him but I'll try to answer it, at least partly. Futura monthly sells about 1800 copies, and the rest are unsold copies (circulation until recently was 3500 copies, and from now on 2000 copies). From the selling cost of Futura "Bakal d.o.o." gets hardly a bit more than a third, the rest has been taken by the state and the distributor. So, Futura monthly earns a bit more than 20.000 KN, from this has to pay the printing (until now about 14.000 KN), copyrights (about 500$ a month, often more), my translations (unassuming 15 KN per page) + a bit of change for preparations, films and postage expenses. So you can see that in the end we have, how Boss would say it, zero money. Futura is truly purely unprofitable."Tisak" (the distributors) and the state are sharing the profits.
If the financial situation gets better, that is, if readers start to subscribe and stop giving 11,40 KN to "Tisak" just to buy Futura on the kiosk, then will Croatian writers get their fees. So, it's not about Futura's frivolousness, nor about "appetite for money".
VG
Don't you think that it's destimulating for quality domestic authors?
MV
I hope that is not so. As I said in one of Futuras, what kind of writer is that, if you have to yield to his wishes or beg him to write the story? Writers write because they have something to say or at least I think of it that way. I don't believe that any of Croatian writers write for financial cause and I think that domestic stories wouldn't be any better if we'd pay them (let say) 500 kn. Here we must have in mind one more thing: for 100$ (a bit more than 500 KN) we could get a shorter story by Silverberg or Resnick or someone like that. If I have to choose between Robert Silverberg and some Croatian John Smith…
VG
Somewhere we read the statement, yours or Bojan's, that a published Croatian story for you is a loss, because it reflects on less sold copies of that issue. It doesn't seems logical - does that mean that reader first takes a good look at Futura at the kiosk, so he won't buy it if he sees domestic story, or we have a "creepy, fatal voice" about domestic story in new issue running around by mouth? And how the reader knows in advance if the story is bad, or good? Experience…?
MV
Bojan gave that statement, so you have a question for him. My opinion? No, more domestic stories doesn't mean less sold copies, at least not right away, but when we had more than 30 pages of domestic stories we got letters from certain part of our readership with something like this: I have no intention to give 26 kunas for domestic stories. It seems that good deal of our readers sees domestic stories as something we use to fill up the issue when we don't want to spend dollars on foreign "big and expensive" names.
VG
You are publishing relatively small amount of illustrations in Futura. Is it because you ain't getting them, or…?
MV
Yes, it's because illustrators are not sending them, and we can't afford to pay copyrights to foreign illustrators.
VG
Why "Bakal" stopped publishing Pratchett? Oh, we know, there's no money, OK. Are there some plans for something similar in the future?
MV
We stopped with Pratchett because book didn't sell the way we expected. But we'll proceed with Asprin's "Myths". This year, on my great pleasure, we'll probably publish three of the "Myths".
VG
Here's another why: why's Futura weak in so called "magazine" part? Here we think about serious theoretical contributions about SF, essays, keeping the notes on recent moves in SF literature, regularly fresh news etc. Just don't say that you don't have $ - you have Internet!
MV
Take a look at intro of Futura nr.64. It's something that gets me despaired. Contributors are disappearing, new ones aren't appearing, and I simply have no time to do that too. But I hope, I do hope, that someone will appear to write a permanent column for Futura. We can't rewrite from foreign magazines (copyrights etc.), I have no access to Net (I work for Boss, remember? Not to mention small kids, hungry cats etc.), and Boss has no time to surf. But all the volunteers are more than welcomed.
VG
No offense, but we think that Futura's web pages are pretty badly maintained and out-of date. So why paying the provider if you're not updating them.
MV
Same again - Boss has no time (motivation too, because Futura is not profitable), and I don't know how and have no access to net (except from "Bakal", but I'm there about five times a year).
VG
Give us a short comment of recent statement about SF of certain mister minister responsible for newest 22% for brain tax. What is the number of subscribers? Will Futura survive?
MV
I think that his statement doesn't deserve to be commented. It seems that high officials of this state are not interested in getting population to read, because WE KNOW what could've happen then. Get a formal education and literature with adaptable prices and soon some ungrateful souls would be asking for true democracy. And we can't allow that to happen, do we?
We have about 300 subscribers for now, but I hope that this number - now when Futura is off from kiosks - will significantly increase.
Will Futura survive? That depends only on you, the readers. People in Zagreb will probably still financially help "Tisak" and the state, but we hope that people from the rest of Croatia will come to conclusion that it's better to pay Futura 18, 20, or 21 kn. (+ tax) and kill two flies with one stroke; that is to save the money and insure in further editing of Futura.
VG
And before the end a bit lighter subject. Will you and Bojan this year finally appear on SFeraKon? After all, without flattering, you are the first lady of Croatian SF, and Bojan is the publisher of the only Croatian SF magazine. Don't you think there is a lot of fans who'd like to meet you?
MV
I hope that we'll come. If people from SFera don't say again "Who do you think you are, buy a ticket like anyone else!". Don't get me wrong - as I said in the intro, it's not about few bucks, it's about principles. Futura is the only SF magazine in Croatia and I think it deserves two free tickets. Would you let us pay the tickets for your EsseKon?
VG
No, we wouldn't. We wish you and Futura all the best in future, and thanks for the interview!
MV
It was my pleasure.
(c) 1998. Via Galactica