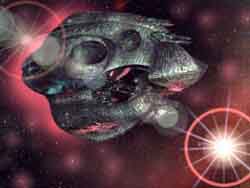 (Krunoslav Gernhard, article made for Czech SF e-zine AmberZine)
---
As far as I know, we have 5 (five) sci-fi clubs here in Croatia. Not bad for a country with complete population less than five million, huh? They will be shortly presented in absolutely random order.
First, there is SF club Aurora from city of Rijeka (west Croatia, near Istria), probably youngest Croatian SF association, founded in 1996. Very agile and enthusiastic, they're publishing fanzine called Prime and making annual convention called RiKon. They also have fair interesting web pages (only on Croatian language).
SFera from our capital Zagreb is biggest Croatian SF association, oldest and with longest sci-fi tradition, founded in late 1977. Right, most of their founders gafiate (it's more than 20 years after, you know) but some of them are still active, like world-wide well known Friendly Alien - Krsto A. Mazuranic from Samobor, a living legend of Croatian SF fandom. It's pretty hard to write anything brief about SFera, because they did so much in last two decades. Their annual convention - SFeraKon - is best, biggest and most visited in Croatia (and so it was in former Yugoslavia). SFera strongly contributed in starting of publishing first Croatian (and former Yugoslavian, by the way) professional SF magazine called Sirius, which earned several European sci-fi awards in middle-80's, but ceased with issue #166 in year 1989. After Croatian War for independence, SFera continued its activities in sci-fi field, mostly by publishing annual collections of Croatian short SF stories (in general written by their club members and supporters), of which they made four books 'till now, since 1994. Their SF fanzine Parsek have more than 60 issues… and what else? A lot, trust me, but in some different time. Here, take a peek on great (also fully English-translated) official pages of this year's SFeraKon, which took place in end of April.
Than there's Branko Belan, society for sci-fi art from Split, southern Croatia (Dalmatia), founded in 1988. They were pretty quiet in last few years, but they're still here, publishing their Misija fanzine from time to time, I think more than 20 issues until now. Here's their web page.
Next is SFinga, an SF association from small town of Kutina (central Croatia). They are pretty specific, because their main activity is LARP - 'Live Action Role Play games by rules of Amtgard', as they say. It's really interesting visually, trust me, to see ten or fifteen grown individuals dressed in self-made ancient armours sword-fighting… err, sponge swords of course, but trust me, expect no mercy. It's forbidden to hit in the head, but if you're not prepared to be beaten from time to time, please do not try this at home :-)
When they are not in a middle age chasing demons, SFinga members are putting out SF fanzine called Another World, and making not less than two annual events, winter convention called KutiKon in their home town, and LARP-related Summer Camp in July, kinda Amtgard-picnic in Slavonian woods. Impressive, what do you say? Observe their (completely English-translated) pages.
And here we are, SF association Gaia from city of Osijek (eastern Croatia), founded in early 1995. I'm a last secretary of our club, so I can tell you a bit more. As you probably know, Gaia was ancient Egyptian goddess of Earth, or something like this. We are inheritors of older Croatian SF club called Gea (yes, we adore all goddesses, especially earthly ones), which finished its existence about ten years ago, not long before war. In spite of the fact that I'm a college graduate lawyer (who would have thought it?), we were unable to overcome certain law obstacles (err... old debts) which forced us not to use the old name, but to pick a new one. So, we became Gaia. Members of the club are mostly teenagers, young students, and few of us old crows (by the years in the fandom, not by age... or...), and we are usually gathering in Tuesday evenings in our regular pub in Osijek to chat, play 'Magic', drink beer on other's account, and to amuse ourselves arguing which books and stories are good, and which aren't. Hey, it's a life. Club is also making a sci-fi fanzine called Via Galactica, with eight regular and one special issue appeared 'till now. Since last year's November 14/15th midnight, Via Galactica became first Croatian electronic SF/fantasy fanzine, mostly in Croatian language, with some English-translated parts (Writer's FAQ, small article about club, few interesting texts from different issues of fanzine…) as an exception. In very short time, Via Galactica developed as center of Croatian web sci-fi interest. Trust me, we're hard working on it...
Last summer club organised a first SF&F convention in east Slavonia, in its native town of Osijek, called EsseKon '97, and next one is coming at 23 - 25. of October this year - EsseKon 2! Now we have separate pages on Via Galactica site dedicated to it, also entirely English-translated, about our program, guests, how to find your way to Osijek, where you can sleep and eat, and other stuff related... and most of all, how to get to convention. (So we posted detailed program with an illustrated map of Osijek with graphic information how to come to EsseKon from city's railroad and bus station.)
And at the end, maybe I can tell a few words about other events, institutions and recent so-called trends in Croatian sci-fi milieu, as I see them…
Croatia have real domestic professional (OK, maybe semi-pro by world measures) monthly sci-fi magazine called Futura, which exist since late 1992. (started during war, yes, almost beyond belief but true), with 70 (seventy) published issues by now (last double issue 69/70, July/August 1998). As far as I know, it's kinda Asimov's/F&SF-like magazine by profile of published stories, including worlds greatest names and a lot of Nebula- and Hugo-awarded works, along with ones of historic SF importance. Cover arts are done by domestic illustrators, and every issue has at least one story by Croatian author. In spite of all this, Futura is pretty much voluntary and good-will-supplied magazine, and a lot more pleasure than money for few people who put it together. I must say that we're particularly proud to have such an sci-fi institution in our small and recently war-suffering country.
As for SF books publishers, there are several of them here in Croatia: Zagrebacka naklada with various published works of Bradbury, Niven, W.J. Williams, Dickson, Heinlein, Barker, Lovecraft, Howard and others; Izvori, maybe a bit more hard-SF inclined with Clarke, Asimov, Brosnan, Sheffield, Robinson and Bear… but they also published first five books of Zelazny's Amber serial, and Simmons' Hyperion/Endymion; then Sara 93, with great novels of Pohl, Sheppard, Varley and King; and probably biggest publisher, Algoritam (not SF-only oriented, by the way), with it's notorious hardcovers of J.R.R. Tolkien (thank God), King, Kay, Gibson and Martin. Their newest SF-project is first two books of Lois McMaster Bujold's world-wide famous Miles Vorkosigan adventures serial, with six more to come. (Yummy!)
Maybe I'm wrong, but it seems to me that Croatian sci-fi audience is kinda more hard-SF oriented in general, which is a result of years of not recognising 'pure' fantasy as genre of equal quality... it's just my humble opinion, remember. After war that situation slightly changed in favour of fantasy, along with continuing popularity of notorious cyberpunk, and some crossovers.
So, this is it. I think that I digested most of what is important on Croatian SF-field these days. For the end, I'll recommend one more interesting Croatian site to visit, all English-based, but ours. It's The Grey Havens, incredible good-looking, informative and fresh site devoted to works of immortal J.R.R. Tolkien.
Welcome to Croatia!